Faculty/staff profile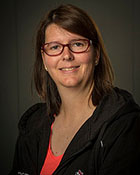 Interurban
PISE (Pacific Institute for Sport Excellence)
212G
BSc., DSA, M.Sc., BSc.P.T, CAT(C)
Athletic & Exercise Therapy
Centre for Sport and Exercise Education
Isabel is a Certified Athletic Therapist and a Physiotherapist with a Certificate in Sport Physiotherapy. She graduated from the University of Alberta with a Masters in Science specialized in muscle injury.
Isabel has been consulting with Brentwood College and Rugby Canada for many years.
She has had many opportunities to work on the international scene more specifically at the 1999 and 2011 Pan-Am Games, the 2002 Salt Lake Winter Olympics as part of the Canadian Olympic Association's health team, and recently as the Chief Therapist for the Canadian contingent at the 2010 Commonwealth Games in Delhi.
Isabel is a past  member of the Board of Directors of the Athletic Therapist Association of British Columbia (ATABC), the Sport Medicine Council of British Columbia (SMBC) and the Canadian Athletic Therapist Association (CATA)
She sits on the Financial Advisory Committee and the High-Performance Provider Committee of the CATA
She is an ongoing Lecturer at the National Coaching Institute
She is an active consultant with B2ten
She has chaired both the  CATA Conference and the World Federation of Athletic Training and Therapy Congress.
She has been invited to speak to the CATA conference, The Brian Injury of BC group and the International Rugby Board Medical Commission Conference in Dublin.
She joined the Center for Sport and Exercise Education in 2008 as a faculty in the BAET program
Isabel is married to Dave and has twin boys Brendan and Zachary.