Faculty/staff profile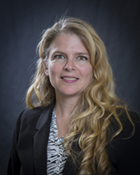 Interurban
Centre for Business & Access (CBA)
261
MBA
Applied Business Technology
School of Business
Geneviève's career has spanned the visual arts, commerce, and technology and she draws on all three to inform her teaching practice. She worked for several years in "edutainment" game design, graphic design, web design, and eCommerce before joining the Public Service. During her time with the Department of National Defence, she worked and taught in the areas of information management, website development, database integration, and online military training.
She was deeply involved with the initial strategic expansion of online learning in the Canadian Navy. She began teaching more extensively when she developed and taught online Master's programs at Royal Roads University before coming to teach full time here at Camosun.
Geneviève is a Camosun alumnus in the Visual Arts, holds an MBA in Digital Technologies Management from Royal Roads University and is continuing the research she began in her doctoral studies with a focus on Distance Education.
Geneviève loves working with students to help them connect their learning to the real world and their own individual interests.