School:
March 8 is International Women's Day, a day to both celebrate the accomplishments made by women worldwide, and recognize that gender equality has yet to be achieved.
This list features works that celebrate the ideas, successes, creativity, and stories of women. These resources–and more–are available at the Camosun library.
Celebrate Tues., March 8 at Lansdowne Campus. Events are free and everyone is welcome!
Welcome & Blessing | May Sam – Fisher Foyer | 11:00 am
Brushing Off Ceremony | Bernadine Mawson – Na'tsa'maht | 11:15 am
Reading & Vigil in recognition of IWD | Monique Gray Smith – Na'tsa'maht | 12:00 - 1:00 pm
Student Poster Session | Fisher Foyer | 1:00-3:00 pm
Book Displays | Lansdowne & Interurban Libraries | All March!
Event proudly sponsored by CCFA, CUPE, & Eyēʔ Sqȃ'lewen as part of the Federation of Post-Secondary Educators of BC (FPSE) Women & Gender Equity Committee.
The Office of Student Support will be tabling on both campuses the morning of March 8 in the Fisher Lobby and the Courtyard outside of LACC, 9–11am. They will be giving away single stem flowers that can be gifted to a special woman in your life.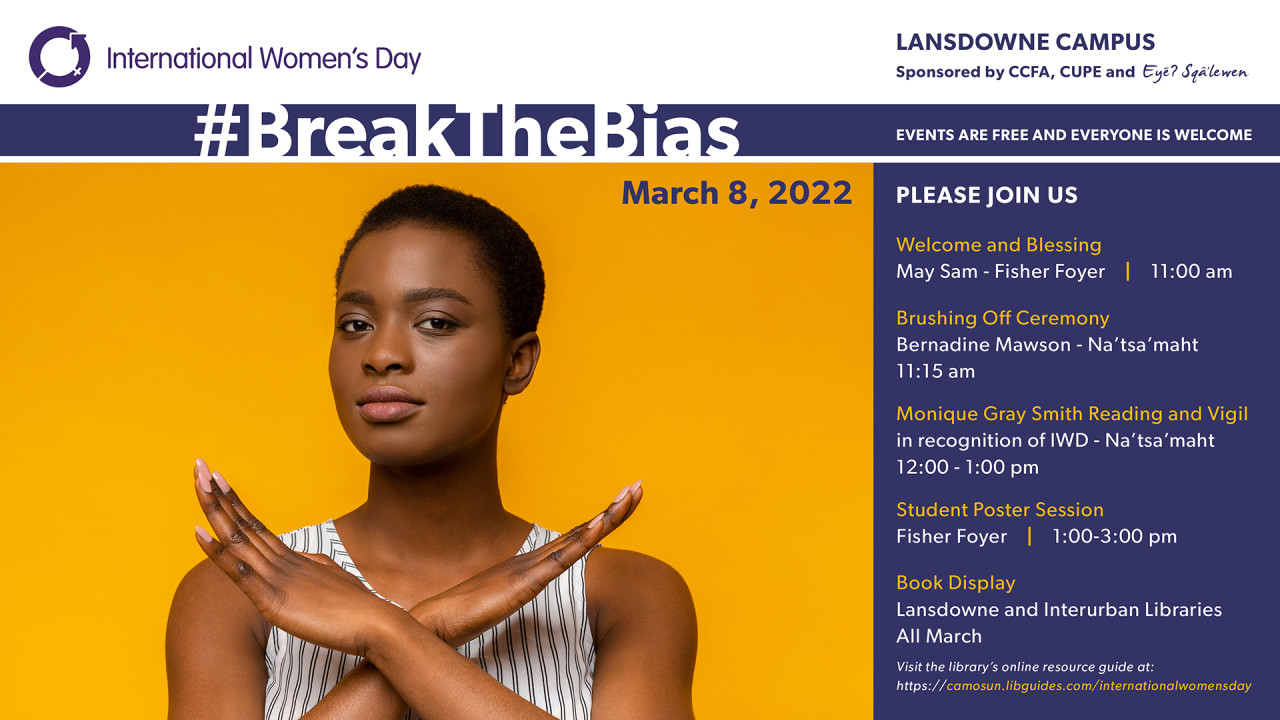 Last updated:
November 28, 2022 | 6:46am