Keep up with your Chargers teams.
November 18, 2020 - 2:30 pm • Chargers • Camosun Staff
Camosun College President Sherri Bell has issued this statement following today's announcement by the Pacific Western Athletic Association (PACWEST) to cancel the 2020/21 athletic season.
---
September 18, 2020 - 11:47 am • Chargers • Camosun Staff
Congratulations to our 2019-20 Canadian Collegiate Athletic Association (CCAA) National Scholar Athlete award winners!
The CCAA National Scholar Award recognizes the outstanding academic accomplishments of student-athletes.
---
June 19, 2020 - 1:14 pm • Chargers • Camosun Staff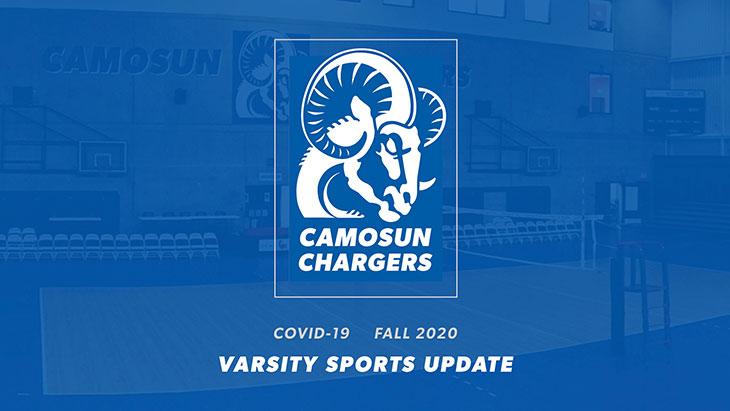 "Due to health considerations and public health guidance, we've all had to make a lot of adjustments over the past four months. Cancelling our Chargers Athletics 2020 fall season is a very difficult and heart-wrenching decision."
---
Chargers Events
November

| S | M | T | W | T | F | S |
| --- | --- | --- | --- | --- | --- | --- |
| 1 | 2 | 3 | 4 | 5 | 6 | 7 |
| 8 | 9 | 10 | 11 | 12 | 13 | 14 |
| 15 | 16 | 17 | 18 | 19 | 20 | 21 |
| 22 | 23 | 24 | 25 | 26 | 27 | 28 |
| 29 | 30 | 1 | 2 | 3 | 4 | 5 |