Student Innovation Challenge wrap up
On Wednesday night eight teams competed for a total of $7000 in prize money in the first Student Innovation Challenge, pitching the ideas they've worked on for the past four months. The winning team presented "The Chargers Podcast", a weekly, accessible and relevant source of information created by students, for students. The team, made up of Alana Marks, Alec Page, Landon Lapensee, and Taylor Graves, went home with $1000 each. 
90 students applied individually or in pairs and were randomly assigned to teams of four in an interdisciplinary approach. The different perspectives and knowledge, as well as teamwork, collaboration, and conflict resolution may have been keys to success in reaching the final 8 teams for pitch night.
Second prize and $500 each went to Colin Thomas, Ellie Somf, and Kiana Pomponio who pitched the idea of Napping Pods available to students at both campuses. An idea for Murals to brighten up the campuses, pitched by Anne-Sophie Cournoyer, Hanna Kim, Moloud Mazaheri, Sidney Chapman, earned third prize and $250 each. Aman Kumar, Christine Clark, Divyanshu Malik, and Savannah Barratt went home with Honourable Mention for their pitch for an Accessibility App.
The panel of judges were all impressed with the high calibre of creativity and thought put into all of the ideas that were pitched. Congratulations to all the teams that participated.
---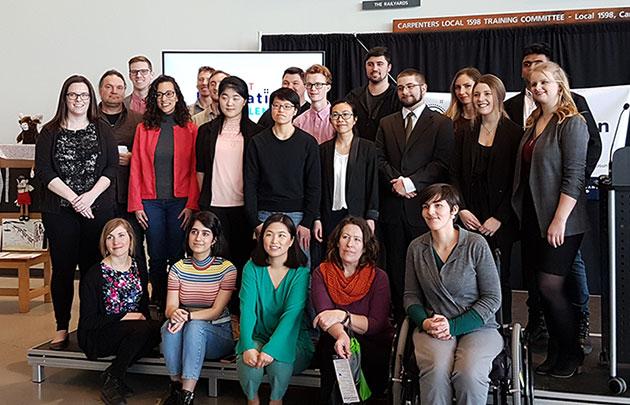 Last updated: January 6, 2016 6:16 pm