Therapy Dog Sessions
Need a break from studying? Visit the therapy dogs at the Lansdowne and Interurban Campus.
Lansdowne
Tuesday, November 27 - 1:30-2:30 pm - Alan Batey Library and Learning Commons (LLC), Room 151
Interurban
Thursday, November 29 - 1:30-2:30 pm - Liz Ashton Campus Centre (LACC), 3rd Floor Atrium
These sessions have been organized by Camosun's Recreation and Wellness Ambassador. For further information, please contact Theresa Wanninger at WanningerT@camosun.ca.
---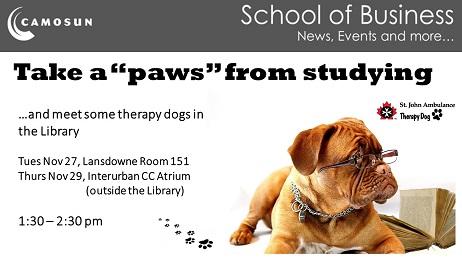 Last updated: January 6, 2016 6:16 pm