Election Notice-Education Council
A seat on Education Council is an opportunity to be involved in ensuring students are provided with quality, relevant educational experiences through establishing academic policy, approving curriculum, and advising the Board of Governors on college policies.
STUDENTS: There are two vacant seats for student representation. The term of office November 2018 – July 2019.
FACULTY: There is one vacant seat available for faculty representation, with a term of office ending 31 July 2019. Nominations will be accepted from faculty from all areas of the college except School of Access, Center for Sport and Exercise Education, and School of Health and Human Services, as these areas have already achieved maximum representation.
VOTING  22 Oct – 24 Oct
NOMINATIONS 19 Sept– 2 Oct (noon)
CAMPAIGNING  5 Oct – 20 Oct
BE SURE TO VOTE - YOUR VOICE COUNTS!
---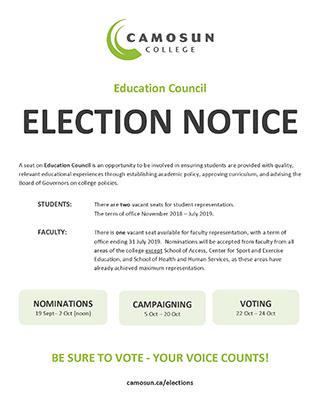 Last updated: January 6, 2016 6:16 pm