HRC West Case Competition
Camosun College, School of Business sent a team, Nova Consulting, to the 5th HRC West Case Competition held in Calgary at SAIT on March 2 & 3rd, 2018.This year's team consisted of 4th year BBA students: Ashley Curran, Thomas Salmon, Laura Swiatlowski and Student Coach, Eric Donald with Faculty Mentor Carole Gosse.
HRC West is the first business case competition in western Canada dedicated entirely to Human Resources. It was launched in response to a gap in practical learning opportunities for post-secondary students specializing in HR.
"As faculty, I had the pleasure of escorting our team to this year's competition and I was so happy to work with students who wanted to learn and stretch out of their comfort zones, and hear constructive feedback to improve their analysis and recommendations." said Carole Gosse.
This competition is a great opportunity to connect post-secondary students with industry professionals, meet future business leaders, and gain real-world HR knowledge by completing the case study. The case competition is one of CPHR Alberta's efforts to engage with post-secondary students and institutions, build awareness of HR and invest in Canada's future HR professionals.
Camosun College competed against 15 other BC & Alberta Universities and Colleges and although we did not placed in the final 4 teams, we certainly had a memorable learning and networking experience. 
"I felt so much pride over the weekend as I watched our students (without prompts from me) approach different teams and judges, introducing themselves with business cards, congratulating the winning teams and discussing our HRM programs with passion and professionalism.  Our team was confident, happy and had a great deal of FUN!  What a wonderful learning experience for all!"  
Congratulations Team Nova Consulting!
---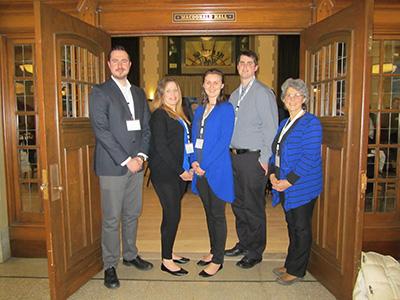 Last updated: January 6, 2016 6:16 pm