Celebrate Marketing Week ~ in a day!
Thursday, March 1
Take time to network with professionals and classmates AND have the chance to win valuable prizes
9:30am – 3:20pm
Helmut Huber Culinary Arts Centre
See a glimpse of the future of marketing with marketing leaders in a range of industries
Get an inside look into how recent graduates are building their marketing careers
Discover where the opportunities are on Vancouver Island – and beyond
AGENDA
9:30 – 9:45am Opening Remarks
9:45 – 11:30am "The Future of Marketing" Leader panel
An open discussion on where industry leaders from real estate, high tech, digital marketing, public relations, tourism and more see the future of marketing.
11:30am – 12:30pm Lunch Mixer
Have a light bite while mixing have the opportunity to chat with guest panelists in the morning and afternoon sessions.
12:30 – 2:30pm Marketing Alumni
Recent Camosun marketing graduates return to campus to share how they started and grew their careers, sharing advice and support through their tales from the trenches.
2:30 – 3:20pm The State of the Island
A look at where the opportunities are on Vancouver Island, including the Capturing Talent initiative of the Vancouver Island Economic Alliance which encourages students like you to build careers on Vancouver Island.
Note: If you are interested in working abroad, be sure to attend the CPRS event on campus February 22nd.
For more information contact:  business@camosun.ca
---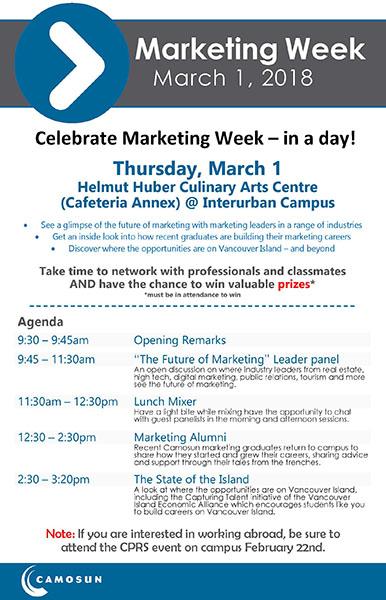 Last updated: January 6, 2016 6:16 pm