Management & Human Resource Leadership Week Jan 29-Feb 2
WHAT CAN MHRL DO FOR YOU?
Informative sessions to learn more about the options in Management, Human Resources & Leadership
Tuesday, January 30  5-6pm - CBA 2nd Floor Atrium
CPHR Mixer
Come meet local members of CPHR BC & Yukon VI Region. Mingle with professionals. Find out what CPHR can do for you!

Wednesday, January 31 5-6pm - CBA 209
BUS 499 Info Session
What is BUS 499 and how do I enroll? Drop by to find out! Snacks....door prizes..... and very useful information about the BUS 499 requirement for BBA and PDD students
 

Thursday, February 1  10:30am - 12:30pm ~ CBA 2nd Floor Atrium
1st & 2nd Year Students 
    - Find out about the various MHRL programs, courses and career paths. 
   - Create a Personal Learning Plan, learn about co-op opportunities and how Student & Alumni Employment Services can help you find your dream job.
   - "Rethink Your Classroom" and see what Study Abroad experiences are available.
Questions?  Email business@camosun.ca
---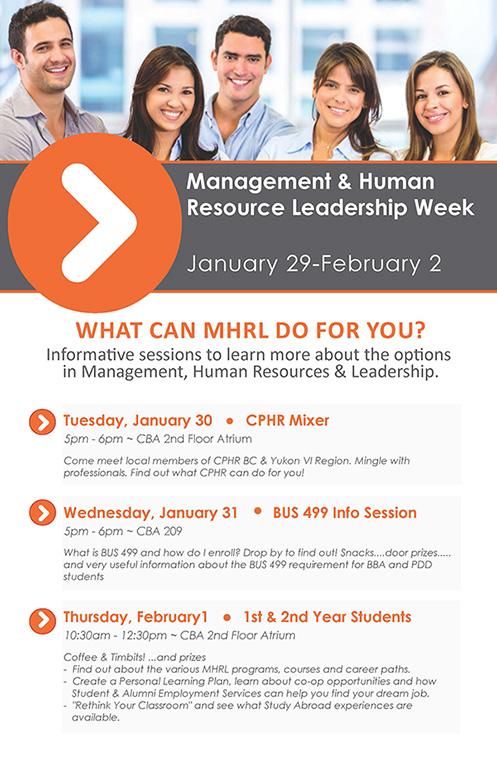 Last updated: January 6, 2016 6:16 pm