Camosun and College of the Rockies team up to provide skills training in Kenya
"Despite a heroic effort by Dennis as goalkeeper, including some dives in the 40°C heat, we still lost to the students," typed Ian Warrender, Camosun's Chair of Electrical Trades Training, into WhatsApp one Friday evening this past February. This WhatsApp message – inclusive of a smiley face emoji – lit up Graham Knipfel's smartphone at his desk at the Interurban campus in Victoria, BC, about 9am PT. 
Knipfel, Camosun's Manager of International Partnerships and Projects, chuckled to himself, picturing his colleague Dennis Morris, an instructor in the Pipe Trades Department, diving unsuccessfully to stop the soccer ball that was skillfully kicked past him by one of the students at the Lodwar Vocational Training Centre in northwest Kenya.
The football match capped off the first week of a consulting assignment in partnership between College of the Rockies, based in Cranbrook, BC, and instructors and management at Lodwar Vocational Training Centre (LVTC) in Lodwar, Turkana County, Kenya. One of several overseas projects in which Camosun is currently engaged, this project is funded by the Lundin Foundation with a goal of improving the ability of local technical tradespeople to obtain and retain skilled employment in the extractives and infrastructure sectors in Kenya.  
Friendly competition and collaboration
The project is managed by the Lundin Foundation's Kenya office, in close consultation with the Turkana County Government. College of the Rockies (COTR) and Camosun were brought onboard as technical partners to help build the capacity of LVTC. With an emphasis on improving the delivery of relevant programming in an effort to produce job-ready graduates, this project works toward alleviating poverty in this somewhat remote area of Kenya.
COTR and Camosun conducted a needs analysis and assessment in 2015. Since then, COTR has provided training for LVTC's Board of Governors in strategic planning and financial management, while Camosun has trained teachers in the areas of Electrical and Plumbing trades, instructional techniques and the use of modern equipment. Camosun and COTR are collaborating to assist LVTC ­– the two BC institutions' combined experience in pedagogical design provides an even stronger educational partnership for LVTC.
"We may compete in volleyball," jokes Knipfel, referencing a recent provincial championship game, "but we are teammates when it comes to TVET [Technical and Vocational Education and Training] as a means of reducing poverty and supporting economic growth in Africa." College of the Rockies is based in resource-rich southeastern BC, while Camosun is based in the provincial capital, Victoria.  
Both colleges offer a wide array of trades training, supporting sectors such as construction, forestry, transportation, marine, mining, and oil and gas in western Canada. They have been globally engaged for years, with dozens of faculty and students working on projects and studying overseas this year, in addition to over 1,300 international students at Camosun, and over 200 international students at COTR.
Overcoming challenges with innovation
Turkana County has its challenges where average daily temperatures top 36°C in February and recurring droughts have seriously degraded the land, making it highly susceptible to desertification. A lack of infrastructure, low levels of literacy and a history of regional marginalization all add up to high levels of poverty.
However, recent oil and gas discoveries have the potential to contribute to the region's development. In 2013, the Lundin Foundation commissioned a study to identify existing and emerging skills gaps; the study indicated a significant gap in TVET with existing educational institutions not prepared to meet the expected societal and industrial needs.
"With the Foundation's financial support in supplying modern tools and equipment for pedagogical use, LVTC students will be better equipped to hone their skills in preparation for work in the burgeoning oil industry," says Kerry Brinkert, Manager, International Projects and Partnerships at COTR.
Prior to losing the football match, Warrender and Morris spent the week facilitating an instructional skills techniques workshop for 17 teachers, 13 from LVTC and 4 from Turkana County. Working peer-to-peer, LVTC instructors built on their expertise to deliver effective lessons using the 'tried-and-true' process of the BOPPPS model (Bridge-In, Objective, Pre-assessment, Participatory, Post Assessment, Summary). Participants delivered entertaining and engaging mini-lessons ranging from how to solve an Ohm's law problem to creating a simple excel spreadsheet. The second week involved the installation of new Electrical and Piping equipment at LVTC.  
As a result of devolution, Kenya is currently going through many policy and framework changes. Financial allocation of government funding has become decentralized ­– Turkana County has particularly benefitted from this process as an influx of revenue to the region is resulting in addressing the infrastructure needs of the county, including a new Trades building at LVTC.   
The Lundin Foundation is a philanthropic leader in the funding of projects that display innovative approaches to education, technology and development. In July 2016, Warrender and Morris will return to LVTC to continue the process of equipment familiarization and instructor skills training with their counterparts at LVTC. 
Internationalization in action
Knipfel responded to Warrender's WhatsApp message with the traditional sunglasses smiley face in combination with the "thumbs up" emoji and an asante sana (thank you in Swahili) for their hard work that week and the ambitious tasks lined up for the following week. For Camosun, this is evocative of its comprehensive internationalization strategy.
In addition to recruiting international students to Victoria, Camosun is also proud to serve the global community by utilizing its expertise with partners overseas.  These experiences permeate the instructor's delivery of course content at Camosun, providing a more global perspective on the course delivered here in Victoria. 
"We want our instructors to be dialed in and our students to be world-ready – this is college education in the 21st century," comments Knipfel, before answering his phone regarding another TVET consulting opportunity overseas.
Photo: Camosun trades instructors Dennis Morris and Ian Warrender with management and teachers at Lodwar Vocational Training Centre following an instructional techniques workshop in Turkana County, Kenya.
---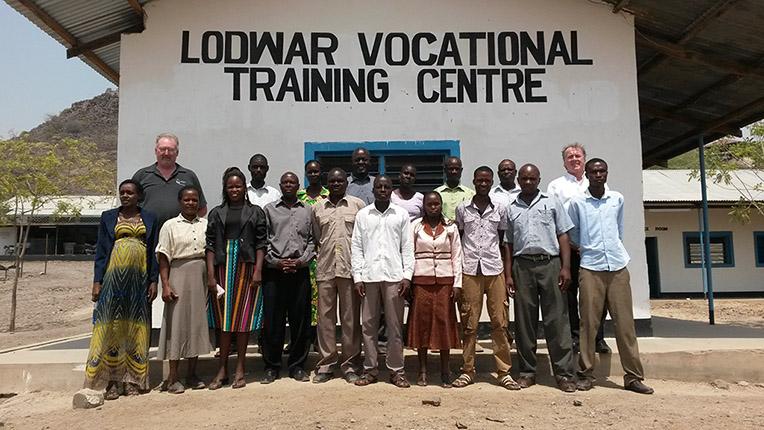 Last updated: January 6, 2016 6:16 pm